As Singapore enter to the age of progressive development, the act of buying and investing is a reflection and engine of economic growth.  As such, increasing number of commercial retails are set up to exploit on foreigners and locals purchasing power which leads to high consumption rate, in other words, high consumerism. High consumerism leads to pollution caused by industrial factories, poverty, and numerous social and ecological problems. Such problems are denied of any links to consumerism in the interest of profit by major shareholders. 
Current commercial retails typologies are designed to entice you with dynamic advertisement and store diversities. This quality is done through an implementation of countless and almost mesmerizing amount of store at every level in a mall.
This project posits a cessation of consumerism by decreasing the frequencies of retail exhilaration through establishing new vertical spatial relationship with profound appreciation for the making process of crafts or artisanal products. New urban configurations can be instrumental in affecting a humans psyche and provide social benefits that provide a renewed sense of contentment not through materialistic consumption but an entirely new urban lifestyle.

Current Commercial Typologies Issue
Most of the commercial malls we see today exhibits continuous row of retail shops one after another tightly knitted on each floor, provoking a sense of excitement as one shopper progresses in their journey. Such excitement will lead shoppers to be blinded by the attractiveness of products, potentially leading them to purchase the goods regardless of their needs.

Crafted or artisanal products should be deemed as scared operation/ ritual. Instead of just publicizing/ selling the final product, the making process should be celebrated and perceived as a sacred endeavor. The spatial sequence and quality to artisanal worshiping could potentially cross reference with the existing temple typologies. 

The Chinese landscape painting embodies a similar character and setting to the veneration of craft. It portrays mountains with tranquil environment for contemplation. The emphasis of the painting also lies in the gaps between mountains covered by misty clouds, the '气' in Chinese term. Trails and staircases walked by mountain goers experience a sense of calmness as they progress in their journey upwards. It is a journey of making pilgrimage to experience the nirvana of nature. 

By providing another dynamic and  tightly knitted space to new retail will result in another typical retail typology in Singapore. Therefore, to allow for greater appreciation in the making of crafts, the shopping experience should be broken down into multiple layers vertically, allowing shoppers and crafts enthusiast to appreciate each making of craft one floor at a time as they climb vertically with injection of meditative spaces. This process of shopping allows for greater appreciation on the intricacy of craft-making, which is the central idea of how JTC wants to celebrate Artisanal works. 
To assist in a more sustainable/ ethical retail, consumer should have enough time for research and decision-making. The new retail landscape is a palace of making, educating the public to appreciate the making of craft. This ultimately will be a total fresh new concept for retail in Singapore where the idea of exciting and fast-paced retail experience in a typical mall is dismissed.

The retail spaces should clearly develop a distance from each other, allowing for public meditative, and craft celebration space to be inserted at every intermediate levels. Myriad forms of meditative spatial qualities are generated by combining independent towers of different retail configurations, from fully opened, partially sheltered to fully sheltered.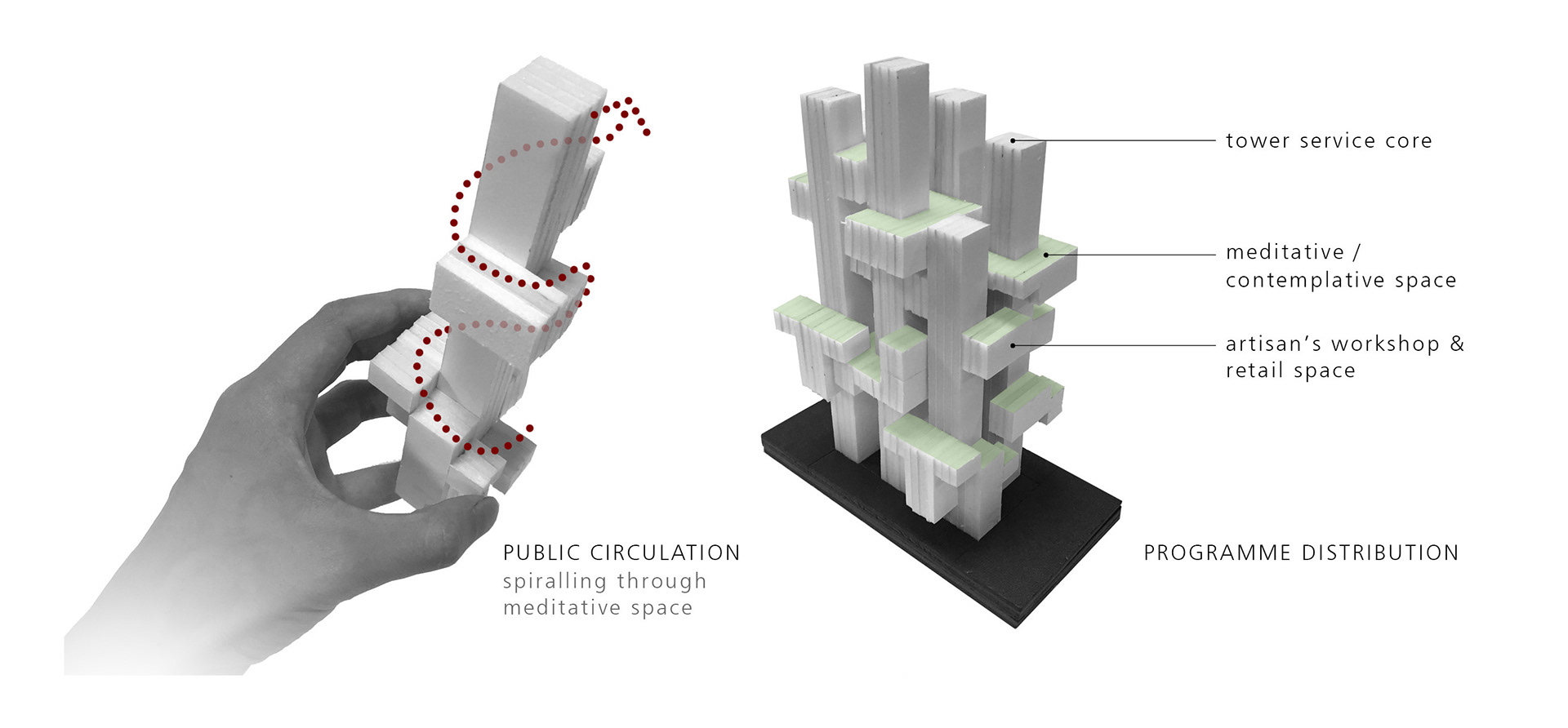 This is an initial conceptual morphology of the artisan retail. Layering in a 'mountain' like form, public circulation are designed to spiral up each tower through meditative spaces. During the journey, public can walk into every artisan's retail stores too.